NioCorp has made a commitment to integrate key Environmental, Social, and Governance ("ESG") principles as it proceeds toward development and commercial operation of its flagship Elk Creek Superalloy Materials Project and continues to evolve from a developing company into an operating company with a global customer base.
ESG refers to factors that an increasing number of companies are integrating into their business models and operations, such as environmental performance, sustainability, resource use, health and safety, engagement with local residents, corporate governance, respect for human rights, and operational transparency.
Corporate ESG performance is increasingly vital to both business risk assessment and to the identification of business opportunities.  This is especially true as markets, and government regulation, are assigning higher value to companies that deliver product and/or services that can lightweight transportation and other systems, reduce fuel consumption, cut air emissions, and mitigate other environmental impacts.  A number of large mining and strategic materials producers have integrated ESG frameworks into their business and production operations.
Corporate ESG performance also is key to investment decision-making by an ever-larger number of global investment groups.  For example, sustainable investing strategies now represent more than 60% of professionally managed assets for investors in the European Union, according to research conducted by the Global Sustainable Investment Alliance.  Further, signatories to the United Nations Principles for Responsible Investment ("UNPRI") now manage an estimated $60 trillion in assets, according to the UNPRI.
"Environmental, social, and governance factors can and should play a major role in any business, particularly those involved in natural resource development," said Mark A. Smith, CEO and Executive Chairman of NioCorp.  "These factors are fundamental to NioCorp's core values.  Moreover, implementing the proper corporate ESG culture can be good for the environment and for business."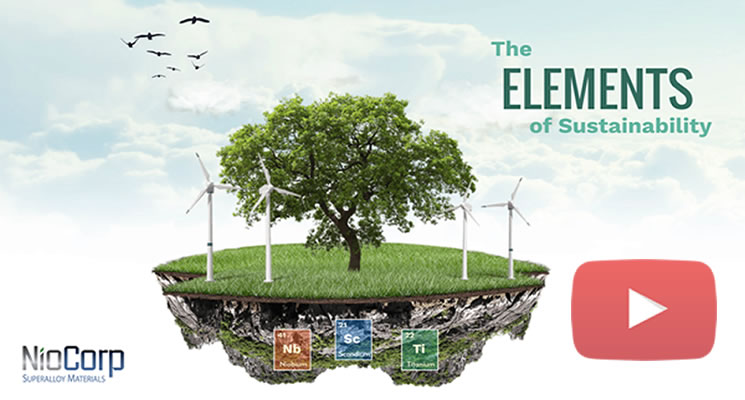 The key ESG principles that NioCorp intends to integrate into its business and the Elk Creek Project as the Company proceeds toward commercial operation include these:
Environmental Stewardship: seek improvement in environmental performance quality, such as water stewardship, energy use, and air where technically and economically feasible.
Sustainability: integrate sustainable development principles into Company policies and practices where technically and economically feasible.
Governance: apply ethical business practices and sound systems of corporate governance and transparency.
Risk Management: identify, assess, and seek to manage significant social, health, safety, environmental and economic impacts.
Health & Safety: develop systems that seek to improve the health and safety of employees, contractors and people in the communities where we operate.
Engagement: proactively engage key stakeholders on sustainable development challenges and opportunities in an open and transparent manner.
You can see more information on NioCorp's commitment to ESG principles here: