Environmentally Critical Minerals
Niobium, Scandium, and Titanium all have important uses in various environmental and clean energy technologies.  These include the following:
Renewable energy systems such as solar, wind, and geothermal power generation
Low-emission electricity generation from fuels cells
Water purification and desalination systems
Lighter-weight and fuel-efficient vehicles and commercial jets that reduce fuel consumption and air emissions
High performance vehicle emissions systems
Next-generation battery technologies
Stronger and lighter-weight buildings and infrastructure systems, which reduce energy consumption and emissions
High-voltage transmission power lines
Environmental and Clean Energy Applications That Utilize NioCorp's Planned Products
Bloomberg Story:  "First-Ever U.S. Mining of Rare Metals Could Come From Nebraska"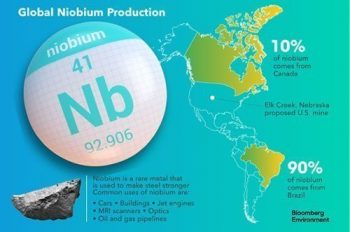 See NioCorp's Latest Corporate Presentation
See this latest corporate presentation from NioCorp about the company and its unique Elk Creek Superalloy Materials Project.  Included in this presentation are links to interesting and informative videos about the Elk Creek Project.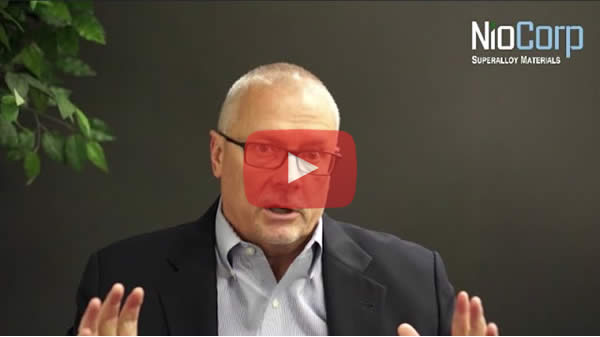 NioCorp CEO and Executive Chair Mark Smith explains the significance of NioCorp's recent Scandium sales contract with Traxys.
See a video that explains the power of superalloys and how NioCorp intends to produce three superalloy metals its its Elk Creek Project.
NioCorp's planned products have all been designated as "Critical Minerals" by the U.S. Government.  Mark Smith explains the significance.