NioCorp's Board of Directors is comprised of distinguished and highly experienced leaders from a variety of sectors.  You can see short biographies from all Board members below.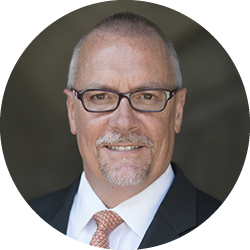 Mark A. Smith
Board Chair, President and CEO
Mark Smith was named CEO and Executive Chair of NioCorp in 2013.  Prior to that time, he was an investor in the Company and became its single largest individual shareholder, which remains the case today.  Mr. Smith has nearly 40 years of experience in the mining and mineral processing industries. Prior to NioCorp, he served as CEO and Director of Molycorp, Inc., where he was instrumental in reviving the Company's rare earth mine and operating facility in southern California.  He led the effort to take Molycorp public in 2010 with an NYSE listing and a market capitalization that grew to more than $6 billion by mid-2011. Prior to that, Mr. Smith was the President and Chief Executive Officer of Chevron Mining Inc. and managed the real estate, remediation, mining and carbon divisions of Unocal Corporation for over 22 years. During his tenure with Chevron Mining Inc., Mr. Smith also served as a Director of Companhia Brasileira de Metalurgia e Mineração (CBMM), part of the Moreira Salles Group, a private company that currently produces approximately 85% of the world supply of Niobium.  Mr. Smith also serves as President and CEO of Largo Resources Ltd. and Chairs the Board of Directors of IBC Advanced Alloys, Inc.  He holds a Bachelor of Science degree in engineering from Colorado State University and a Juris Doctor cum laude from Western State University, College of Law.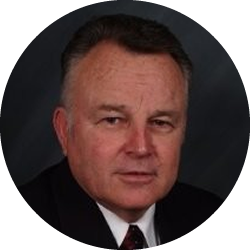 David C. Beling, P.E.
Director
Mr. Beling is a Registered Professional Mining Engineer with 51 years of experience and has been on the board of directors of 14 mining companies starting in 1981. He is President, CEO, CFO and director of Bullfrog Gold Corp. since 2011 and was the Executive Vice President and Chief Operating Officer of Geovic Mining Corp. from 2004 to 2010. Mr. Beling has examined, significantly reviewed or been directly involved with 88 underground mines, 131 open pit mines and 164 process plants in the global metal, energy and industrial mineral sectors.  His previous employment includes 13 years with five majors mining companies and 38 years of employment and consulting for 25 junior mining companies.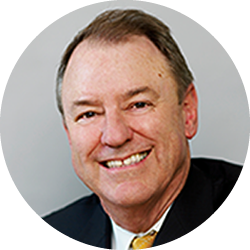 Michael J. Morris
Director
Mr. Morris served as a director from 2001 to 2007 and as Chairman of the Board of Heritage Oaks Bancorp from 2007 to 2017 when it merged into Pacific Premier Bancorp.  Mr. Morris currently serves on the Board of Directors of Pacific Premier Bancorp, an $11.5 billion regional bank. In addition, Mr. Morris is the senior principal and chairman of the board of Andre, Morris & Buttery, a professional law corporation. From 2000 to late 2006, Mr. Morris served on the board of Molycorp Inc., which at the time was a wholly owned subsidiary of Unocal and then Chevron. Mr. Morris was the only independent director of Molycorp at that time.  Mr. Morris is a graduate of Georgetown University and received his law degree from the University of San Francisco School of Law.  He has practiced business and environmental law for over 40 years.  Mr. Morris served as a member of the Board of Governors and Vice President of the State Bar of California.  He served as a 1st Lieutenant in the U.S. Army from 1970 to 1972.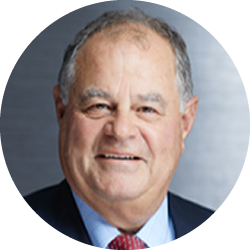 Joseph A. Carrabba
Lead Director
Mr. Carrabba is Executive Chairman of Winston Gold Corp. and serves as a Director on the boards of TimkenSteel Corporation, Key Bank, and Aecon Group.  A former Director of Newmont Mining Corporation, he served as Chairman, President, and Chief Executive Officer of Cliffs Natural Resources Inc., a publicly-held international mining and natural resources company, from 2006 until his retirement in November 2013.  Prior to joining Cliffs Natural Resources Inc., Mr. Carrabba gained broad experience in the mining industry throughout Canada, the United States, Asia, Australia and Europe.  He was the former General Manager of Weipa Bauxite Operation of Comalco Aluminum and served in a variety of leadership capacities at Rio Tinto, a global mining company, including as President and Chief Operation Officer of Rio Tinto's Diavik Diamond Mines, Inc. He holds a Bachelor's degree in geology from Capital University and his MBA from Frostburg State University in Maryland.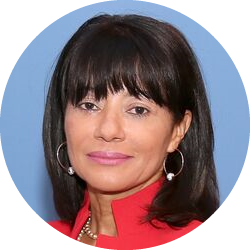 Nilsa Guerrero-Mahon
Director
A former Chief Financial Officer and Controller for global corporations in the technology, energy, and government sectors, Ms. Guerrero-Mahon provides consulting services to domestic and international corporations as the principal at NG Mahon Business Consulting, LLC, a business consulting service, a position she has held since 2008. In addition, Ms. Guerrero-Mahon currently serves on the Board of the State of Colorado Division of Securities.   From 2016 to 2019 she served on the Board of Directors of Centura Health Mountains & North Denver Operating Group, the largest division in the Centura Health Care System. From 2014 to 2016, she served as the Vice Chair of the Board of Directors and Chaired the Strategy Committee at St. Anthony Hospital, now a member of the Centura Health Mountains & North Denver Operating Group. From 2009 to 2017, Ms. Guerrero-Mahon served as a gubernatorial appointed Board Member of the State of Colorado Financial Services Commission. Among other prior positions, from 2005 to 2007, she was the Global Services Controller at Microsoft Corporation, overseeing internal controls and corporate finance activities. Ms. Guerrero-Mahon received an Executive MBA from the Daniels College of Business at the University of Denver and a BS in Business Administration – Accounting from the Interamerican University in San Juan, Puerto Rico, and is a Certified Public Accountant registered in the State of Colorado.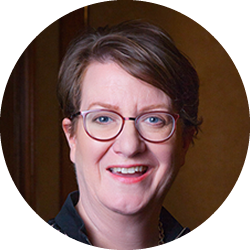 Anna Castner Wightman
Director
A sixth generation Nebraskan and a graduate of Nebraska Wesleyan University, Ms. Wightman currently serves as Vice President of Government Relations for First National Bank in Omaha, Nebraska. Prior to that, she worked for the Greater Omaha Chamber of Commerce and served in the U.S. Congress for former Congressman Bill Barrett and former Congresswoman Virginia Smith, both of whom represented the 3rd Congressional District of Nebraska. Anna serves on the Board of Directors for the Nebraska Chamber of Commerce, Nebraska 4H Foundation Board of Trustees, Nebraska State Historical Society Foundation Board of Trustees, Dundee Presbyterian Church Elder, and has served on other numerous nonprofit boards in Nebraska. She and her husband, Jack Wightman, live in Omaha and have two daughters.
Bloomberg Story:  "First-Ever U.S. Mining of Rare Metals Could Come From Nebraska"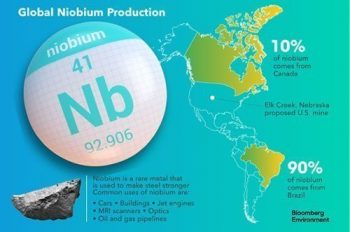 See NioCorp's Latest Corporate Presentation
See this latest corporate presentation from NioCorp about the company and its unique Elk Creek Superalloy Materials Project.  Included in this presentation are links to interesting and informative videos about the Elk Creek Project.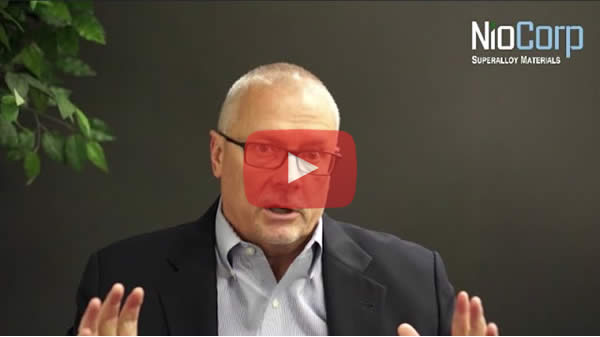 NioCorp CEO and Executive Chair Mark Smith explains the significance of NioCorp's recent Scandium sales contract with Traxys.
See a video that explains the power of superalloys and how NioCorp intends to produce three superalloy metals its its Elk Creek Project.
NioCorp's planned products have all been designated as "Critical Minerals" by the U.S. Government.  Mark Smith explains the significance.