NioCorp has the highest-grade primary Niobium resource in North America, and the only such resource under development in the U.S. Additional market opportunities are available from a co-product (Scandium) and a byproduct (Titanium).  In all, NioCorp will produce three commercial products – all critical minerals – from a single ore body, which maximizes production and sales flexibility.
The Company's three products are valuable superalloy additives used in large, diverse end markets, including transportation, aerospace and defense, oil and gas, advanced manufacturing and steel mega-structures.  Niobium has a global market value of over $2 billion.
The Elk Creek Project is one of the few pure-play critical minerals projects in the U.S. with a definitive feasibility study completed, key U.S. federal permits already obtained, and strong support from local residents.
75% of the Company's Niobium product (Ferroniobium) is already under an enforceable sales contract for the first 10 years of production.  50% of that offtake has been sold to ThyssenKrupp, which enables in-principle eligibility for the project of a German Government Loan Guarantee of — ~$130M.
Approximately 10% of the Project's expected scandium production over 10 years has been sold to Traxys North America LLC, a global leader in specialty metals.
The Project is led by a seasoned management team led by veterans with decades of experience developing and operating mines and advanced materials facilities.
The Elk Creek Project has highly attractive mine economics:

A 32-year mine life with 3.4 year pre-tax payback period from production
A pre-tax Net Present Value ("NPV") of $2.3 billion and Internal Rate of Return ("IRR") of 24.3%; after-tax NPV of $1.7 billion and IRR of 21.7%
An average EBITDA of $389.6 million over operating life; average EBITDA margin over operating life of 69.5%
Bloomberg Story:  "First-Ever U.S. Mining of Rare Metals Could Come From Nebraska"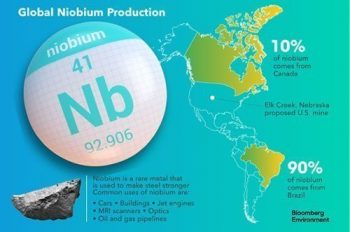 See NioCorp's Latest Corporate Presentation
See this latest corporate presentation from NioCorp about the company and its unique Elk Creek Superalloy Materials Project.  Included in this presentation are links to interesting and informative videos about the Elk Creek Project.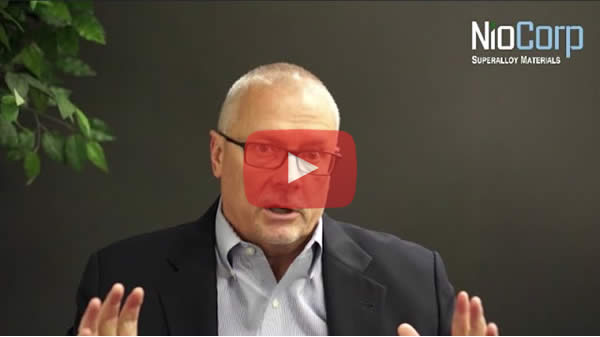 NioCorp CEO and Executive Chair Mark Smith explains the significance of NioCorp's recent Scandium sales contract with Traxys.
See a video that explains the power of superalloys and how NioCorp intends to produce three superalloy metals its its Elk Creek Project.
NioCorp's planned products have all been designated as "Critical Minerals" by the U.S. Government.  Mark Smith explains the significance.